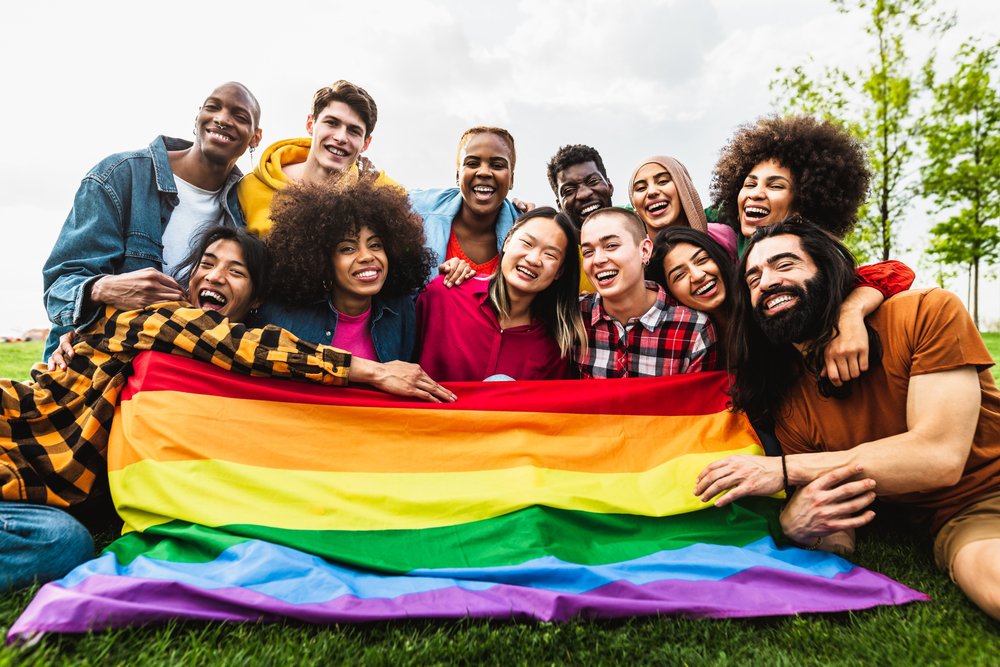 On the first anniversary of the Stonewall Uprising, June 28, 1970, the first Pride march was held in New York City. Since then, Pride Month has become an annual celebration of queer identities, as well as an opportunity to recognize, discuss, and raise awareness for the struggles still faced by the LGBTQ+ community today.
One such discussion relates to health issues within the community. It's essential to address these topics to promote better understanding, reduce stigma, and ultimately improve health outcomes for everyone. By raising awareness in this way, we can help ensure that all people are able to get the medical care they need and deserve.
Among the various health concerns impacting the LGBTQ+ community, hepatitis C (or hep C) is one of the most prevalent. This viral infection, which primarily affects the liver, has disproportionately impacted LGBTQ+ individuals for a variety of reasons. At HepCMyWay, we're passionate about providing resources to help anyone affected by hep C. Here, we'll discuss what exactly a hepatitis C infection is, why the LGBTQ+ community is at a higher risk, as well as how the disease can be prevented and treated.
Understanding Hepatitis C
Hepatitis C goes by many names, including hep C, viral hepatitis, and HCV. This contagious liver disease can cause serious complications if left untreated, like liver damage, liver cancer, and in extreme cases, even liver failure. In most cases, hep C is transmitted via infected blood. Before protections were put in place in 1992, people often tested positive after receiving a blood transfusion that was unknowingly carrying the virus. Today, hep C is largely spread by:
Sharing needles or syringes for drug use
Having unprotected sex with an infected individual
Being born to a mother with the virus

Unfortunately, chronic hepatitis C often does not present with any symptoms until its later stages, making it difficult to detect. Therefore, anyone who may be at risk should get tested for the virus regularly.
The Prevalence of Hep C in the LGBTQ+ Community
It's worth noting that, while hep C is more prevalent amongst LGBTQ+ people(opens in a new tab) than the general population, there is nothing about being LGBTQ+ that inherently raises a person's risk of contracting hep C. Rather, it's specific factors that put a person at higher risk, and these can be found amongst people of all sexualities and genders. What raises the risk for LGBTQ+ people is how prevalent these factors are within the community. These factors include:
Again, while these factors can affect heterosexual people as well, they are often interlinked with the discrimination and stigma that LGBTQ+ people face, which can lead to disproportionate numbers of infections within the community. That's why it's so important for LGBTQ+ individuals to be aware of its causes and get tested if needed, and why it's also important to raise awareness about the virus and its prevalence in the community.
Prevention Strategies for Protecting Against Hep C
If you think you might be at risk of contracting hep C or you're looking for ways to protect yourself, there are a few strategies that can help. First and foremost, it's important to get vaccinated for hepatitis A and B. Though there isn't a vaccine for C, having these two other vaccines can help reduce your risk of acquiring it.
It's also important to practice safe sex, including using condoms for any sexual activity that requires it. In addition, you should always clean sex toys before and after you use them, and you should also get tested for hep C and other sexually transmitted diseases regularly, especially after engaging in sexual activity with someone new.
Finally, never use a dirty needle. If you are using drugs intravenously, there are needle exchange programs around Pittsburgh, PA that can help you get safe, clean needles. Using these programs can help you avoid a number of blood-to-blood infections, including but not limited to hepatitis C. And before you get your next tattoo or piercing, make sure you're going to a licensed and reputable body art practitioner.
Access to Hep C Treatment and Support for the LGBTQ+ Community
The team at HepCMyWay has decades of experience treating patients in marginalized communities, including those in the LGBTQ+ community. We also proudly provide our services to active drug users, as well as those in recovery. We strive to create a safe and welcoming environment for all patients in order to ensure better access to hepatitis c treatment.
The first step to getting hep C treatment is getting a proper diagnosis. If you're looking for testing locations, the Central Outreach Wellness Center offers blood tests for hep C across five locations in Pennsylvania and Ohio. If needed, we can also send one of our experienced phlebotomists to you to perform a blood draw. If you do test positive, our team will be here to tell you about your treatment options and provide support throughout your journey to recovery.
Thanks to the tireless work of infectious disease specialists, hep C is now curable in most cases. In fact, most people dealing with the infection will be cleared after just a few months of taking medication! We're proud to make this medication easy and accessible for everyone with our 3-step process:
Step 1: Fill out our

patient-friendly form

, or give us a call if you'd rather speak to someone over the phone.
Step 2: We'll work with you to schedule a time for you to visit a lab, or we'll send one of our experienced, compassionate phlebotomists to draw your blood. We'll then send that sample to the lab, where pretreatment testing will be conducted.
Step 3: Once you have the results of your test, we'll schedule a

telemedicine appointment

with you so we can discuss how to move forward with your hep C doctor. If you decide to start treatment, we'll ship your meds right to your home!

After you finish your course of medication, we'll complete just one more test to ensure that your infection is gone. And that's it—you're free of hepatitis C!
Looking for a hep C doctor near you? As the top provider of online hep C treatment, we make receiving the care you need as easy as 1, 2, 3. Get started with HepCMyWay today and get ready to be hep C free!