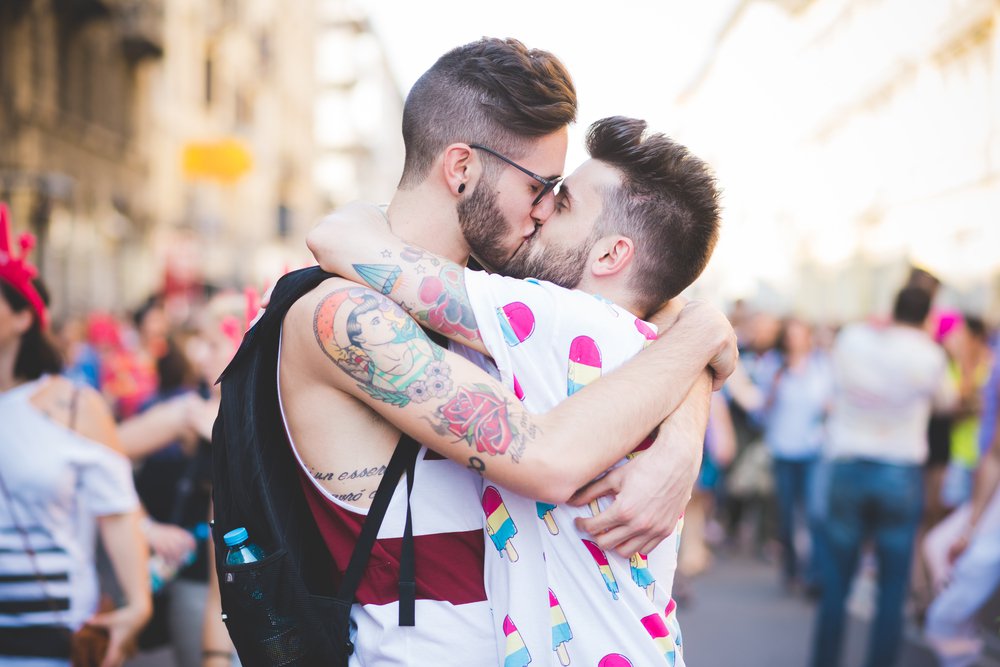 June is Pride Month, and if you're LGBTQ, it's an amazing time to celebrate who you are with your community around you. That said, it's also an important time to reflect on the health of the LGBTQ community and the risks we still face. While Hepatitis C can affect anyone of any gender, orientation, race, or lifestyle, it's also true that members of the LGBTQ community -- particularly men who have sex with men (MSM) -- are found to be at a higher risk of Hep C infections(opens in a new tab) than other demographics.
The team at HepCMyWay is passionate about educating patients about Hep C, and we'd like to take a dive into discussing risk factors for the LGBTQ community, as well as how to get tested and treated for Hep C if you think you may be infected.
What is Hepatitis C?
Hepatitis C is a virus that primarily attacks the liver. The virus can cause inflammation, fibrosis, cirrhosis, and even liver cancer. While there are many different strains of the virus, only six are responsible for the majority of infections worldwide. These six strains are classified as genotypes 1-6, with genotype 1 being the most common in the United States. It's estimated that around 3.5 million Americans currently live with the virus.
Hep C is spread primarily through contact with infected blood. This can happen in a variety of scenarios, including:
Sharing needles or other injection drug equipment
Having unprotected sex with someone who is infected
Being born to a mother with Hep C
Receiving certain types of blood transfusions or organ transplants before 1992
Living with the virus can be difficult, as symptoms of Hepatitis C don't always present themselves until the liver has already been damaged. This means that many people don't realize they're infected until it's too late. That's why it's so important to get tested if you think you may have been exposed to the virus.
What are the risk factors for Hep C in the LGBTQ community?
There are a few different reasons why members of the LGBTQ community may be at a higher risk of contracting Hep C:
1- Higher rates of intravenous drug use.

Intravenous drug use is one of the most common risk factors for Hep C in general, especially when sharing needles. However, studies show that members of the LGBTQ community have higher rates than others of using intravenous drugs, as well as limited access to safe injection materials.

2- Higher rates of high-risk sex.

While anyone can contract Hep C through unprotected sex, many members of the LGBTQ community have sex lives that require an extra amount of caution when it comes to Hep C. In particular, unprotected anal sex increases one's risk of blood-to-blood contact, as does sharing sex toys without cleaning them and having unprotected sex with multiple partners.

3- Limited access to healthcare.

If you're gay, trans, or otherwise identify with the LGBTQ community, you've probably had the experience of feeling like you don't belong in a traditional healthcare setting. This can lead to a lack of regular check-ups and screenings, which means you're less likely to get tested for Hep C or other conditions like HIV.

4- Frequent tattoos and body piercings.

For many LGBTQ individuals, tattoos and body piercings are forms of self-expression, a way to take ownership of the body that they may not have felt comfortable in before. Unfortunately, getting tattoos and piercings from unlicensed or unsafe sources puts you at risk of contracting Hep C.

5- Higher occurrence of mental health struggles.

'High-risk behaviors' like intravenous drug use and frequent unprotected sex don't happen in a vacuum. Often, they're a way of numbing difficult emotions or dealing with mental health struggles. And unfortunately, members of the LGBTQ community are more likely than others to experience mental health issues like anxiety and depression. This is often due to the fact that members of the LGBTQ community face higher levels of discrimination, violence, and exclusion than the general population.
What can you do to protect yourself from Hep C?
If you think you may be at risk of Hep C, there are a few things you can do to protect yourself:
1- Get vaccinated for Hepatitis A and B. While there is no vaccine for Hep C, getting vaccinated for Hepatitis A and B can help reduce your risk of contracting the virus.
2- Use condoms during sex. Using condoms during sex is one of the best ways to reduce your risk of contracting any sexually transmitted infection, including Hep C.
3- Find Hep C testing near you. If you think you may have been exposed to the virus, it's important to get tested as soon as possible. Many times, Hep C can be treated successfully if it's caught early enough.
4- Don't share needles. If you use intravenous drugs, it's important to never share needles. Safe, clean needles can be accessed through many needle exchange programs.
5- See a mental health professional. If you're struggling with mental health issues, it's important to seek help from a qualified professional. Mental health professionals can help you find healthy coping mechanisms for dealing with difficult emotions.
Need Hepatitis C treatment? Get started now.
If you test positive for Hep C, it's important to seek treatment as soon as possible. In most cases, Hep C can be cured with a few months of Hepatitis C medications. On the other hand, if it's left untreated, Hep C can lead to serious health problems like liver damage, and may even become fatal.
No matter what, it's important to remember that you're not alone. At HepCMyWay, we offer online treatment for Hep C in PA and OH, which means you can get the care you need from the comfort of your own home. Our user-friendly process makes it easy to get started -- just fill out our patient form, and one of our care coordinators will reach out to you to discuss your treatment options.
Ready to be Free from Hep C? As the top online Hep C doctors near you, we make receiving the care you need as easy as 1, 2, 3. Get started on your road to recovery with HepCMyWay today.